HRM Strategies in Response to the First Covid Lockdown: a Typology of French Workplaces
The working paper shows the interest of crossing the literature on crisis management and on firm flexibility to analyse changes in working conditions and human resource management, facing unexpected crises such as the Covid pandemic. Based on a survey conducted by the French Ministry of Labour in April 2020 at the workplace level, which was matched with other datasets on pre-existing economic and employment situation, it proposes a typology of workplace strategies in terms of work organisation and human resources in response to the first lockdown in France. It shows that it is possible to identify five main types of workplace strategy: the teleworking strategy, used massively to persevere in keeping up activity; a temporary exit strategy, using the short-time work programmes supported by public policies; an innovation strategy, concerning workplaces which had or have chosen to maintain their activity on site; a retrenchment strategy leading to a decrease in employment level; a mixed strategy that combined internal or spatial flexibility partial retrenchment using short-time work and related public support as resources. These five strategies could be linked to various resources that may be used to respond to a crisis: some of them were pre-existing at the workplace level and depend mainly work relations (teleworking agreement, wage level, risk exposure and health and safety committee); others relate to labour market institutions (legislation on short-time contracts and temps, etc.) and to labour market policy (short-time programmes and their support, etc.).
Ce document de travail propose d'articuler la littérature sur la gestion des crises avec celle sur la flexibilité dans les entreprises pour analyser les changements dans les conditions de travail et dans la gestion des ressources humaines, face à des crises imprévues comme la pandémie de Covid. Sur la base d'une enquête menée par le ministère français du Travail en avril 2020 au niveau établissement, appariée à d'autres bases de données sur la situation économique, l'emploi et les conditions de travail, le document de travail identifie une typologie des stratégies d'établissement en termes d'organisation du travail et de ressources humaines, dans le contexte du premier confinement en France. Cinq grands types de stratégies émergent : la stratégie de télétravail, utilisée massivement pour maintenir l'activité ; une stratégie de sortie temporaire, mobilisant les programmes de chômage partiel soutenus par les politiques publiques ; une stratégie d'innovation, concernant les établissements qui ont dû ou choisi de maintenir leur activité sur site ; une stratégie de repli conduisant à une diminution du niveau d'emploi ; une stratégie mixte combinant une flexibilité interne ou spatiale et un repli partiel en ayant recours au chômage partiel et aux aides publiques. Ces cinq stratégies peuvent être liées à diverses ressources susceptibles d'être utilisées en réponse à une crise : certaines d'entre elles préexistaient au niveau des établissements et concernaient principalement les relations de travail (accord sur le télétravail, niveau de salaire, exposition aux risques et existence d'un comité de santé et de sécurité) ; d'autres apparaissaient liées aux institutions du marché du travail (législation sur les contrats temporaires et l'intérim, etc.) ou aux politiques de l'emploi (chômage partiel en particulier).
Fichier principal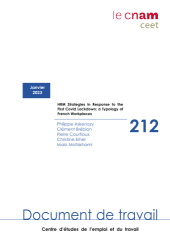 Doc212_HRM Strategies in Response to the First Covid Lockdown a Typology of French Workplaces.pdf (1.45 Mo)
Télécharger le fichier
Origin : Publisher files allowed on an open archive
Licence : CC BY NC ND - Attribution - NonCommercial - NoDerivatives