Revisiting the heritage of cities in the light of the digital revolution: domestic heritage and digital device, a marriage of reason?
Revisiter les héritages des villes à l'aune de la révolution numérique : patrimoine domestique et dispositif digital, un mariage de raison ?
Français English En 2006, l'association d'urbanisme du centre de Paris (AUCP1234) engageait une réflexion sur la mobilité et la desserte des 1er, 2e, 3e et 4e arrondissements parisiens. En 2018, cette proposition est d'autant plus d'actualité qu'elle s'insère dans une dynamique de fusion des arrondissements centraux de Paris qui doit se réaliser en 2020 ainsi que la préparation des JO de 2024. La proposition de l'AUCP porte sur la mise en œuvre d'un véhicule collectif, de dimension réduite permettant de mieux desservir les quartiers du centre de Paris en offrant plus de mobilité aux habitants et une meilleure connexion entre les services, les équipements, les lieux du commerce. En imaginant des parcours urbains du cœur historique de Paris, alors même que ces espaces sont en constante réforme, ce projet met en avant la question patrimoniale du bâti, pensé avant tout un lieu. Pourtant, les habitants ignorent souvent l'héritage de l'architecture domestique dans lequel ils vivent. A travers ce cas d'étude, nous proposons une réflexion sur le patrimoine et les parcours urbains à l'aune de la révolution numérique : comment les outils numériques peuvent servir à une forme de pédagogie urbaine en direction des touristes et des habitants. Qu'il s'agisse de faire vivre un patrimoine ornemental ou une architecture domestique, les dispositifs innovants sont des nouvelles façons de faire vivre les héritages des villes, à destination des résidents, des actifs ou des touristes. Une diversité de besoins, d'usages et de pratiques urbaines se fondent, se mêlent et participent au décloisonnement des espaces et des temporalités.
Fichier principal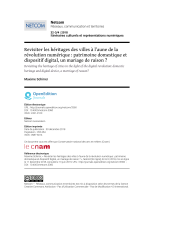 netcom-3360.pdf (1.02 Mo)
Télécharger le fichier
Origin : Publisher files allowed on an open archive