Activity and professional vision
Actividad y visión profesional
Activité et vision professionnelle
This contribution addresses the complementarities and tensions between the concept of "professional vision" and that of activity. While "professional vision" highlights the functioning and dynamics of "ways of seeing" in their situated complexity, it also brings up the question of the development or the making of this "vision". Building upon the Clinic of activity perspective, we seek to show how activity theories allow this question to be taken up again in relation to the psychological development of the subject and of collectives.
Nuestra contribución es una reflexión sobre complementariedades y puntos de tensión entre el concepto de "visión profesional" y el de actividad. El de "visión profesional" explora el funcionamiento y la dinámica de las "formas de ver" en su complejidad situada, y abre un interrogante en torno al desarrollo o la producción de esta "mirada". Apoyándonos en trabajos de la clínica de la actividad, intentamos mostrar cómo los modelos de la actividad permiten abordar nuevamente esta cuestión en relación con el desarrollo psicológico del sujeto y de los colectivos profesionales.
Notre contribution se propose d'engager une réflexion autour des complémentarités et points de tension entre le concept de « vision professionnelle » et celui d'activité. Si la « vision professionnelle » éclaire le fonctionnement et la dynamique des « façons de voir » dans leur complexité située, elle ouvre à un questionnement autour du développement ou de la fabrique de ce « regard ». En nous appuyant sur des travaux issus de la clinique de l'activité, nous cherchons à montrer comment les modèles de l'activité permettent de reprendre cette question en lien avec le développement psychologique du sujet et des collectifs professionnels.
Fichier principal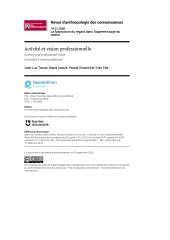 rac-6814.pdf (287.01 Ko)
Télécharger le fichier
Origin : Publisher files allowed on an open archive
Licence : CC BY NC ND - Attribution - NonCommercial - NoDerivatives