The cohabitation norm-autonomy in the care of the elderly by home-care workers: a paradoxical whole
La cohabitación norma- autonomía en el acompañamiento de ancianos por las asistentes a domicilio: un todo paradójico
La cohabitation norme-autonomie dans l'accompagnement des personnes âgées par les aides à domicile : le tout paradoxal
This article focuses on the activity of home care by questioning the term and the materialization of the concept of autonomy in the performer's work, delineated by procedures, standards and orders that reduce individual latitudes. Autonomy being a spearhead in the sector and in the professions of care, we question the paradox found by the professional who must play with virtual margins of autonomy to preserve that of others, equally vulnerable. This daily "juggling" at work has an impact on the experience, professional practice and health of these professionals. These considerations are applied to the possible implications and consequences of cohabitation between norms and autonomy in a group of home-care service workers (perceived with their specific profiles and practices) occupied mainly with the elderly, whose home becomes the other's workplace. These reflections are based on the results of a field study conducted on a sample of 136 performers of home-care services, using a mixed methodology (136 questionnaires and 40 interviews). Finally, the reflection is also oriented towards the regulation and organizational methods in force in the sector, in order to bring to light some paradoxes that disturb the professionals, whose own autonomy when becoming a performer becomes desire, between part wish and part inaccessible.
Este artículo se centra en la actividad de la asistencia a domicilio cuestionando el término y la materialización del concepto de autonomía en una labor de ejecutante, balizado de procedimientos, normas y prescripciones que reducen las latitudes individuales. La Autonomía que es una punta de lanza en el sector y en los oficios del acompañamiento, se cuestiona en el mismo la paradoja encontrada por el profesional que debe jugar con márgenes virtuales de autonomía para preservar la de los demás, vulnerables igualmente. Estos "malabarismos" diarios de/en el trabajo tienen impactos en lo vivido, en la práctica profesional y en la salud de estos profesionales. Las reflexiones que siguen se aplican pues a explorar e incluir las implicaciones y consecuencias posibles de la cohabitación entre las normas y autonomía en un grupo de asistentes a domicilio (percibidos/as con sus especificidades de perfiles y prácticas) trabajando principalmente ante públicos de edad avanzada, donde el domicilio de uno se convierte en el lugar de trabajo del otro. A nivel empírico, la reflexión aquí expuesta se apoya en los resultados de un estudio de campo realizado a partir de una muestra 136 actores de los servicios de la asistencia a domicilio, a través de metodología mixta (40 entrevistas, completadas de cuestiona-rios a objetivo confirmativo ante el mismo público); y los que datos cualitativos así recogidos fueron objeto de análisis de contenido temático y lexicográficos. Por último, la reflexión se orienta también en consideración a la reglamentación y los métodos organizativos en vigor en el sector, con el fin de sacar a la luz algunas paradojas que perturban a los profesionales, cuya autonomía cuando se es ejecutante se convierte en deseo, entre una parte de deseo y una parte de inaccesible.
Cet article s'intéresse au métier d'aide à domicile en questionnant la place et la matérialisation du concept d'autonomie dans un métier d'exécutant, balisé de procédures, de normes et d'injonctions qui réduisent les latitudes individuelles. L'autonomie étant un fer de lance dans le secteur et les métiers de l'accompagnement, il est discuté ici le paradoxe rencontré par le professionnel qui doit jouer de marges virtuelles d'autonomie pour préserver celle des Autruis vulnérables (euxaussi). Ces « contorsions » quotidiennes du/au travail ont des impacts sur le vécu, la pratique et la santé de ces professionnels. Le propos à suivre s'applique donc à explorer et comprendre les implications et conséquences possibles de la cohabitation entre normes et autonomie chez les aides à domicile (entendu(e)s avec leurs spécificités de profils et de pratiques) intervenant principalement auprès de publics vieillissants, dont la maison de l'un devient le lieu de travail de l'autre. Sur un plan empirique, la réflexion ici partagée s'appuie sur les résultats d'une étude de terrain réalisée auprès de 136 acteurs des services de l'aide à domicile, au travers d'une méthodologie de recueil mixte (40 entretiens approfondis dont 32 auprès des aides à domicile, complétés de questionnaires à visée confirmatoire auprès du même public) ; et dont les données qualitatives ainsi recueillies ont fait l'objet d'analyses de contenus thématique et lexicographiques. Enfin, la réflexion est également orientée en considération de la règlementation et des modes organisationnels en vigueur dans le secteur, afin de mettre en lumière quelques paradoxes bousculant les professionnels dont l'autonomie quand on est exécutant devient désir, entre une part d'envie et une part d'inaccessible.
Fichier principal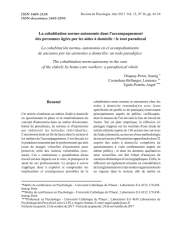 cohabitation-norme-autonomie-disquay.pdf (498.03 Ko)
Télécharger le fichier
Origin : Explicit agreement for this submission