How to equip the operator's participation in the observations of real work?
Comment outiller la participation des opérateurs aux observations du travail réel
The described ergonomic intervention took place in an assembly plant of small domestic appliances. As part of an ergonomics master's degree, we started from the initial request for the prevention of musculoskeletal disorders to question ourselves about the participatory nature of ergonomic interventions. The organization wished to increase the operator's responsibility. Therefore, which intervention method allows for a real stakeholder's participation? In an attempt to answer this question, we created an observation group with the operators. The goal of this group was to allow the operators to direct the intervention right from the beginning of the observations. The method used allowed the observation group to highlight what affects their initiatives and contributes to the deterioration but also to the preservation of their health. However, a real participation within the decision process was not reach.
L'intervention ergonomique décrite s'est déroulée dans une usine d'assemblage de petit électroménager domestique. Dans le cadre d'un master d'ergonomie nous sommes partie d'une demande initiale de prévention des troubles musculosquelettiques pour nous questionner sur le caractère participatif des interventions ergonomiques. Dans un contexte de responsabilisation des opérateurs par l'organisation, quelle méthode d'intervention permet une réelle participation des acteurs ? Pour tenter de répondre à cette question, nous avons créé un groupe d'observation du travail avec les opérateurs. Le but de ce groupe était de permettre aux opérateurs d'orienter l'intervention dès les premières observations. La méthode employée a permis au groupe d'observation de mettre en avant ce qui affecte leurs initiatives et contribue à la détérioration ainsi qu'à la préservation de leur santé, mais sans pour autant atteindre finalement une participation effective dans le processus décisionnel du projet.
Fichier principal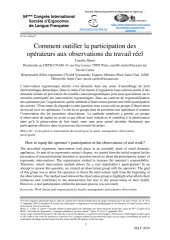 acte-4-self-2019.pdf (427.42 Ko)
Télécharger le fichier
Origin : Publisher files allowed on an open archive