Espaces de discussion sur le travail : l'encadrement de proximité premier concerné ?
Work discussion forums are imposed as means of action in professional circles, in particular to combat psychosocial risks. Very often, it is the local managers who are responsible for leading the system within the company. But what about discussing the work of these managers? This paper reports on an intervention carried out within a local authority in which we presented local managers with an analysis of their own activity. We present the methodology deployed as well as a first evaluation of the results. In conclusion, we raise the paradox of certain mechanisms that make the local manager responsible for planning the work schedule without providing for discussion of their own work. Finally, we talk about the setting up of a discussion space to help bring about a transformation of work situations moving towards the quality and development of the health of professionals.
Les EDT se sont imposés comme des moyens d'action dans les milieux professionnels pour lutter contre les dits « risques psychosociaux ». Bien souvent, ce sont les encadrants de proximité qui sont mis à la tâche, chargés d'animer le dispositif déployé dans l'entreprise. Mais qu'en est-il de la mise en discussion du travail des encadrants de proximité ? Cette communication rend compte d'une intervention réalisée au sein d'une collectivité territoriale dans laquelle nous avons associé des encadrants de proximité à l'analyse de leur propre activité. Nous y présentons la méthodologiedéployée ainsi qu'une première évaluation des résultats. En conclusion, nous soulevons le paradoxe de certains dispositifs qui font du manager de proximité l'agent de déploiement des EDT sans souvent prévoir la mise en discussion de leur propre travail. Nous interrogeons enfin les conditions d'un espace de discussion pour qu'il soit réellement porteur d'une transformation des situations de travail.
Fichier principal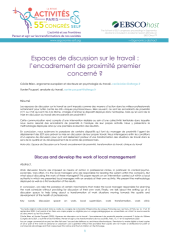 self2020 EDT nominatif.pdf (347 Ko)
Télécharger le fichier
Origin : Publisher files allowed on an open archive
Licence : CC BY NC ND - Attribution - NonCommercial - NoDerivatives