Interactions between research and educational communities: are the concepts of a forum of public policies, ideational broker and participative assessment policies relevant?
Interactions recherche-communauté éducative : les concepts de forum de politiques publiques, ideational broker et évaluation participative à l'épreuve des faits
The National School System Assessment Council (Cnesco), created by law in 2013 to conduct an independent evaluation of the school system, aims to link research, evaluation, educational practices and policies. To do this, it sought to set up an original model of interaction among the stakeholders of the educational community, building consensus and aiming for change to overcome a reductionist vision of the mechanical transfer of research findings to the world of practitioners and decision-makers. Based on the reflections of research in sociology and political science on policy assessment models, but also fed by more incarnate concepts as an ideational broker and a forum of public policies, Cnesco has developed as a chamber of exchange and relay between the worlds of research and communities of practitioners and decision-makers. An experimental laboratory for six years, it has achieved a positive balance in its relations with practitioners in the field, but with more limited results in terms of its ability to feed public decision.
Le Conseil national d'évaluation du système scolaire (Cnesco), instance créée par la loi en 2013 pour mener une évaluation indépendante du système scolaire, vise à faire le lien entre recherche, évaluation, pratiques éducatives et politiques publiques. Pour ce faire, il a cherché à mettre en place un modèle original d'interactions entre les acteurs de la communauté éducative, de construction de consensus, dans une visée de changement institutionnel, afin de dépasser une vision réductionniste de transfert mécanique des résultats de recherche vers le monde des praticiens et décideurs. S'appuyant sur les réflexions de la recherche en sociologie et science politique sur les modèles d'évaluation des politiques publiques, mais aussi se nourrissant de façon plus incarnée des concepts d'ideational broker et de forum de politiques publiques, le Cnesco s'est développé comme une chambre d'échange et de traduction entre les univers de la recherche et les communautés de praticiens ou de décideurs politiques en éducation. Laboratoire expérimental pendant six années, il présente un bilan positif dans ses relations avec les praticiens de terrain mais des résultats plus limités quant à ses capacités à nourrir la décision publique.
Fichier principal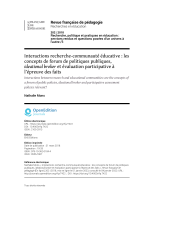 rfp-7422.pdf (461.05 Ko)
Télécharger le fichier
Origin : Publisher files allowed on an open archive
Licence : CC BY NC ND - Attribution - NonCommercial - NoDerivatives