Reform of "Educative Rhythms" in Primary Schools in Paris: what Employment Policy for Socio-Educative Instructors?
Réforme des rythmes éducatifs à Paris : quelle politique d'emploi des animateurs ?
In Paris in September 2013, a reform of the timetables and school times in primary schools (called "Aménagement des Rythmes Educatifs", ARE) was accompanied by many recruitments of socio-educative instructors, whose labour organization and content of work have significantly changed. This paper highlights how the employer has solicited its internal labour market (that means here applicants who have been already working for the Ville de Paris) as well as external applicants. This paper also points out how the employer involved mobility and improved post-hire training. In spite of the diversity of positions offered (daily-paid, contractual and permanent workers), recruitments are structured around common benchmarks, which standardize the profile wanted and make requirements higher, especially regarding the creativity and the ability to ensure children's safety. For a part of the employees, the reform means stabilization in employment, but the majority of them remains in a precarious position.
À la Ville de Paris, l'« Aménagement des Rythmes Éducatifs » (ARE) instauré en septembre 2013 dans les écoles s'est accompagné de recrutements importants d'animateurs, dont l'organisation et le contenu du travail ont sensiblement changé. Ce document montre comment l'employeur a sollicité son marché interne, composé ici des personnels travaillant déjà à la Ville, et son marché externe, c'est-à-dire des candidats extérieurs à la Ville. Il montre également comment l'employeur a créé des espaces de mobilités, accentué la formation à l'entrée. Malgré la diversité des statuts proposés (vacataires, contractuels et titulaires), les recrutements se structurent autour de repères communs qui normalisent le profil recherché et augmentent les exigences, notamment en matière de créativité et de capacité à assurer la sécurité des enfants. Pour une partie des animateurs, cette réforme a été synonyme de stabilisation dans l'emploi, mais la grande majorité d'entre eux demeure dans une situation précaire.
Fichier principal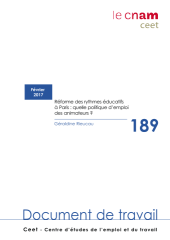 189-reforme-rythmes-educatifs-paris-politque-d-emploi-animateurs.pdf (411.62 Ko)
Télécharger le fichier
Origin : Publisher files allowed on an open archive